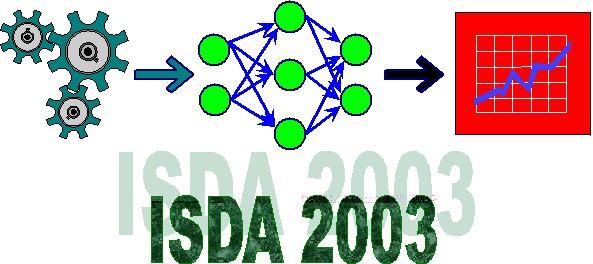 Call for Papers
Intelligent Systems Design and Applications (ISDA'03) is the third International conference that brings together international soft computing / computational intelligence/ artificial intelligence researchers, developers, practitioners, and users. The aim of ISDA 2003 is to serve as a forum to present current and future work as well as to exchange research ideas in this field. ISDA 2003 invites authors to submit their original and unpublished work that demonstrate current research in all areas of soft computing and computational intelligence including design of artificial neural networks, fuzzy systems, evolutionary algorithms, hybrid systems, agents, and their applications in science, technology, business and commercial.
ISDA'03 will focus on the following themes:
Architectures of intelligent systems

Image, Speech and signal processing

Internet modeling

Data mining

Business and management applications

Control and Automation

Software agents

Knowledge management

Special topics
We invite you to submit a:
- full paper of 8 to 10 pages (Letter or A4 paper) for oral presentation
- proposal to organize a technical session and/or workshop (see the Call for Events Proposals for more information).
Submitted papers have to be original, containing new and original results. The proceedings of the Conference will be published by Springer Verlag, Germany. The papers are to be formatted according to the author's instructions found at the following link: http://www.springer.de/author/crau-engl-instruct.pdf .
The Springer LaTeX macros use standard LaTeX packages - if you do not have these packages please refer to www.dante.de/cgi-bin/ctan-index
Submission implies the willingness of at least one of the authors to register and present the paper. All full papers are to be submitted in PDF electronically via the web site. Hard copies should be sent only if electronic submission is not possible. All papers will be peer reviewed by at least two independent referees of the international program committee of ISDA'03.
Topics of interest include but not limited to:
Intelligent Systems Architectures and Applications
Artificial Neural Networks

Mathematical foundations of neural networks

Architectures and algorithms

Learning theory (supervised/ unsupervised/ reinforcement learning)

Knowledge based networks

Implementation issues of neural networks

Support Vector Machines

Neural network applications

Fuzzy Systems, fuzzy logic and possibility theory

Fuzzy expert systems

Fuzzy system design using evolutionary algorithms

Fuzzy system modeling and simulation

Fuzzy systems and applications

Evolutionary Algorithms

Genetic algorithms, evolution strategies, genetic programming and evolutionary programming

Learning Classifiers

Hybrid evolutionary algorithms

Evolutionary algorithms and applications

Fusion of neural network- fuzzy systems

Fusion of fuzzy systems- evolutionary algorithms

Fusion of neural network - evolutionary algorithms

Fusion of neural network- fuzzy systems- evolutionary algorithms

Intelligent agents (architectures, environments, adaptation/ learning and knowledge management)

Bayesian networks and probabilistic reasoning

Rough sets

Statistical learning techniques

Fusion of statistical methods and soft computing techniques

CAD systems

Intelligent optimization techniques
Intelligent Image and Signal Processing
Design and implementation of intelligent signal processing systems

Image, vedio and multidimensional signal processing

Multimedia signal processing

Speech processing

Features and classification

Texture analysis

Document analysis

Stereoscopic vision

Shape processing

Object recognition

Image and video retrieval

Image and video compression
Intelligent Internet Modeling
Web intelligence

Search engines

Information retrieval (web mining)

Database querying

Ontology

XML mining

Intelligent networking between Web Sites

Network security, intrusion detection

Information aggregation and fusion

Interaction with intelligent agents

Intelligent agents and interfaces for personalization and adaptivity

Intelligent tutoring systems on the WWW

Adaptive hypermedia systems

Agents for digital cities, virtual communities and agent societies
Intelligent Data mining
Discovering patterns in continuous data

Uncertainty management for data mining

Clustering algorithms and applications

Classification trees

Mining time series

Mining in a Mobile Environment

Statistical Considerations in Learning

XML Mining

Text Mining

Distributed Data Mining
Intelligent Business Systems
e-learning, e-commerce, e-business, e-finance

Risk management
Derivatives pricing
Portfolio management and asset allocation
Stock market, forex market analysis, dynamics; simulation
Hedging, trading & arbitrage strategies
Financial modeling
Computational economics
Intelligent management
Multicriteria decision making
Intelligent Control and Automation
Mathematical modeling and analysis of complex systems
Soft computing/computational intelligence in control systems
Knowledge based control systems
Adaptive control systems

Control applications in robotics, manufacturing, process control, industrial systems, automotive, vehicular systems, spacecraft and so on
Intelligent Agents
Adaptation and learning
Agent architectures and communication languages
Communication, collaboration, and interaction of humans and agents
Conversational agents
Coordinating multiple agents
Designing agent systems - methodologies & software engineering
Evolution of agents
Knowledge acquisition and management
models of emotion, motivation, or personality
multi-agent communication, coordination, and collaboration
Intelligent Knowledge Management
Application of knowledge representation techniques to semantic modeling
Development and management of heterogeneous knowledge bases
Automatic acquisition of data and knowledge bases (especially raw text)
Performance evaluation
Parallel database systems
Data and knowledge sharing
Cooperation in heterogeneous systems
Domain modeling and ontology-building
Concurrent engineering and computer integrated manufacturing
Digital Libraries
Multimedia Databases.
Important Dates
Deadline for workshop/ sessions/ tutorial proposals

January 27

, 2003

Deadline for paper submission (full paper)

February 28

, 2003

Notification of acceptance

April 4

, 2003

Deadline for camera ready papers and authors' registration

April 18

, 2003
ISDA'03 conference in Tulsa

August

10 - 13, 2003